Wish 5 - give a balloon or some flowers to someone.
2 things that have always really cheered me up no matter how bad I was feeling are balloons and flowers. A very kind elderly neighbour found it sad that I wasn't well enough to look out of the window and see flowers so he made sure I always had a fresh flower to look at and stuck with it until he died. I have also been sent helium balloons and tied them to my hospital bed and spent hours watching them bob around the room. In the words of Winnie the Pooh 'No one can be uncheered by a balloon'.
My wish is for people to give some flowers or a balloon to someone in need of a smile. It could be a neighbour, someone you know, a friend of a friend or even calling in at your local nursing home and asking it to be given to someone who doesn't get visitors.
When your ill and isolated something like this can lift your spirits hugely. Bizzy Balloons lets you send a balloon in a big box to someone through the post for £9 (with the discount code 111243) or you can get them cheaply on ebay and have them blown up at a local party shop. Flowers don't have to be big fancy bouquets, a simple flower cut from your garden has just as much, if not more feeling and sentiment.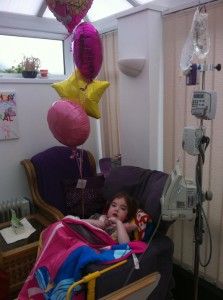 Poppy with balloons I sent her
Update- this wish got off to a great start with the BBC handing out 12 flowers to people in Woking asking them to give them to someone in need of a smile.
If a flower or balloon company would be willing to donate some flowers or balloons to someone in need of a smile I can put a link to the website here and a public thank you
I have another similar wish but it's not one of my 30 as I think it's very unlikely to be able to be granted. I knew someone who worked delivering flowers to shops like Asda. At the end of every shift he would have flowers left over and would have to chop them in half and throw them in the compost bin. Imagine if he had stopped at the end of his shift at a different nursing/care home and asked if they could be handed out. The joy it would bring, the senses stimulated by the bright colours and scents, instead they rotted. Greeting card companies also destroy unsold cards, ripping them up and sending them for recycling. I would love for any unsold flowers to be given to people in need of a lift and for unsold cards to be donated to the charity
Post Pals
as they would be used to make sick kids and their families smile. I tried emailing one company as I know they throw away unsold stock but I didn't hear back, I've also heard of Clinton managers having to destroy cards. Post Pals would also love unsold gifts which I'm assuming they must have left over sometimes. Maybe if enough people emailed or Tweeted the main companies asking them to donate unsold stock to Post Pals they might listen. Also if you know anyone who works for a flower or card company please ask them if they can help.
I would love to hear or see pictures if you take part with any of my wishes and will read them on my birthday (21/12). My contact details are my30wishes@hotmail.com and Vikki C/O Post Pals, PO Box 278, Leatherhead, Surrey, KT23 4WN, England. Thank you