Wish updates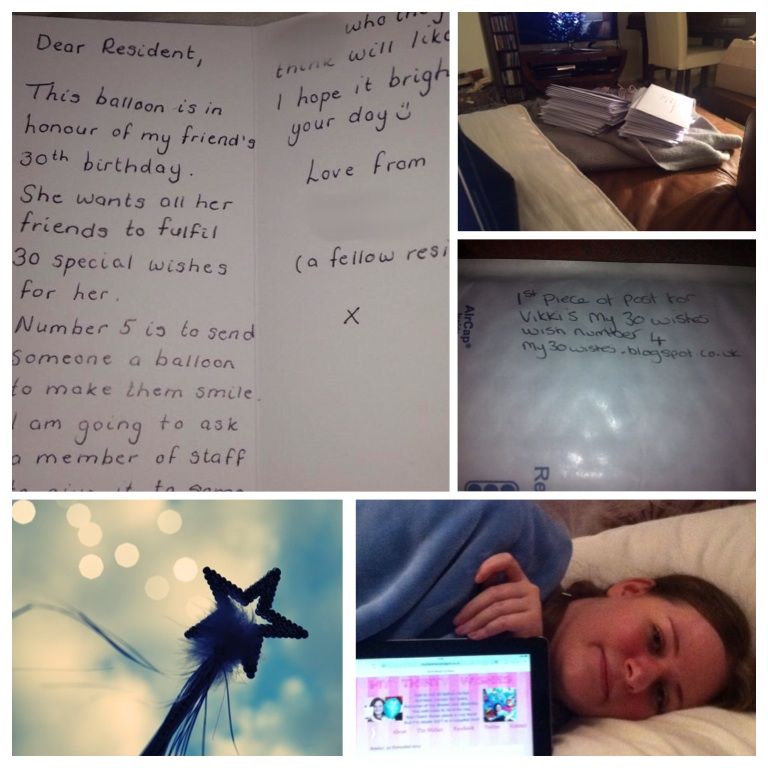 1) I know of 3 people who signed up through My 30 Wishes and it has raised awareness of donation and the importance of joining as well as the desperate need for donors from ethnic minorities. It was featured on BBC Surrey radio and included an interview with a man who donated bone marrow to save someone's life and an interview with someone from the Anthony Nolan Trust. Don't forget you can sign up as a donor with Delete Blood Cancer up until your 55th birthday.
2) I was rather ambitious with the number of views I had hoped for but more people have now seen the video (especially after Fearne Cotton asked her followers to watch it) but no doubt it had been seen many more times after a version of the video was on Russell Howrds good news a few years back (and is still being repeated!). You can see the Russell version
here
3) Thank you to everyone who has donated, my online total reached £500 by the end of my birthday so thank you to everyone who has donated. I've had around £100 of donations offline too so that's £600. Diane from Finest of Norfolk (http://www.finestofnorfolk.co.uk) is planning a fundraiser in the spring and Francesca (http://francesca-wales.co.uk) has kindly offered to do an afternoon of mini massages or manicures in return for donations to Brenda's Beach Chair. Donations can still be made on my Go Fund Me page
Hopefully next year the beach will be accessible for any disabled visitor
4) Quite a few people took on the challenge of sending 30 pieces of snail mail,
Here is
Lewis
with a card he was sent from the challenge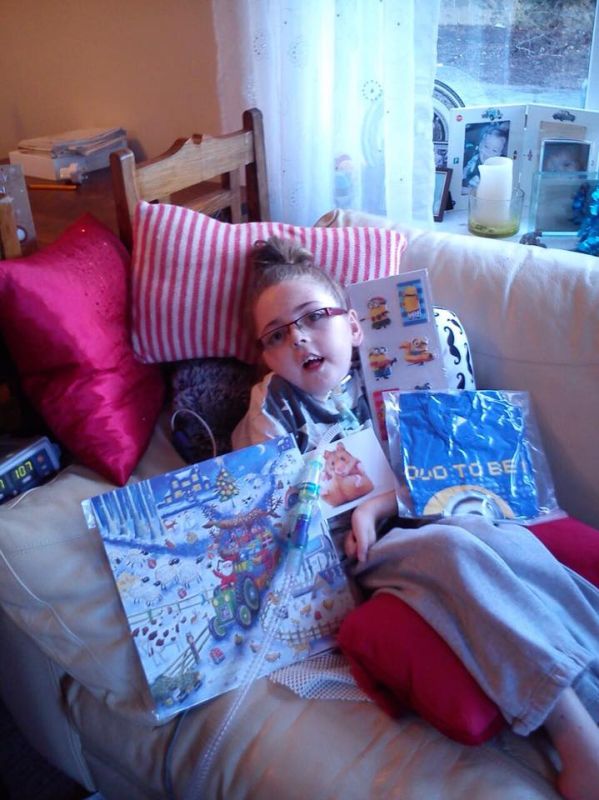 5) My flower and balloon wish got off to a great start with BBC Surrey handing out flowers to 12 people which were donated by
Flowers by Rosemary
. One bedridden young adult in a nursing home arranged a balloon for another resident, 2 people brought flowers for people they wouldn't normally of, a grandmother gave flowers to her young granddaughter and someone from the M.E forum Foggy Friends received a balloon which cheered her up a lot. A couple of other people have said they plan to give Christmas flowers. Kim runs a card shop and gave out flowers and a balloon to customers who seemed in need of a smile, an elderly lady burst into tears as she had never been given flowers before (not even from her husband). I was very surprised when a huge and beautiful bouquet of flowers arrived for me from Steve at Flowers by Rosemary, I was actually speechless which is a complete rarity! Here is a pic but it doesn't do the flowers justice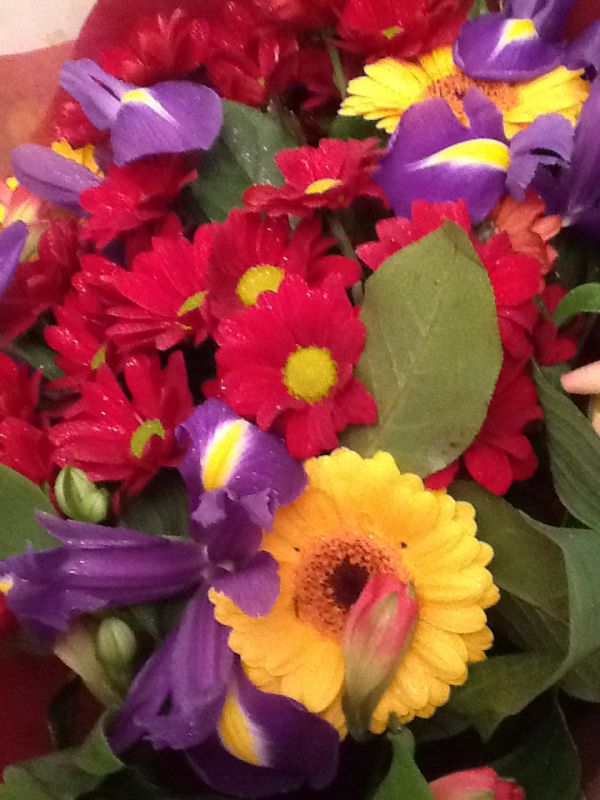 6) This one can't really be put into numbers as most who have done a RAOK did them regularly anyway but it's been nice hearing what you've done and hopefully someone new has done one. I was actually on the receiving end of a RAOK last week when Cam from BBC Surrey turned up with an advent calendar which was lovely and we talked about different ideas for RAOKs for Weds breakfast show. Cam asked me what has been the most touching response or my favourite one, it was tough to choose but someone arranged for a balloon to be given to another resident in the nursing home she is in. This is a lovely thing for anyone to do but she is extremely ill herself, is bedridden and can only whisper a few words a day- yet she used those few words to make someone's day. I also thought Kim's idea was brilliant, she made Keyrings with jingle bells on and gave them to her elderly customers with instructions to attach it to their person to help detect pickpockets.
7) Watching Voices from the Shadows has only recently been able to be done online for free. It actually is one of the most important wishes to me and ideally my wish would be for 30 people to watch it and also to find 30 new health professionals to watch it (I've been looked after by doctors,nurses and carers who have watched it but this was pre 30 wishes).
So far 10/30 people and 0/30 medical professionals have seen of. It's free to watch online until the end of the year, please watch!
8) Thank you to those who have ordered some crafting items off my Amazon wish list for Burrswood hospital. There are lots of items left which can be seen here http://www.amazon.co.uk/registry/wishlist/CQ69PHM7PBMX).
On the activity volunteering side Rhian saw my post and decided to ring her local nursing home to ask if she could play her flute to the residents. She's not played for years and has a seriously illness/disability herself as well as being a Mum to 2 little ones. Both the residents and Rhian had a wonderful time and she is returning to play carols at Christmas. I will do a blog post about Rhian soon.
9) Lots of people have told me about sunsets they have seen in the past and sent me lovely photos.
10) Thank you to everyone who downloaded Spread the Hope, over 30 of you did :)
11) 1771 people now 'Know the Glow' and as I'm leaving the blog up hopefully more people will come across the post (please tell all your friends). Sadly 1 in every 500 children aged under 14 are diagnosed with cancer and 3% of them have retinoblastoma which is what's detected by 'knowing the glow'. Now 1771 people know how to spot the signs which lead to rapid diagnosis and a good prognosis.
12) This wish shot over my 30 meals aim with someone donating 64 meals to one food bank,
40 breakfasts for UK children, 100 meals for children through Oxfam and many others donates to foodbanks too. Often I heard from the foodbanks direct rather than from those who were donating so I wasn't able to thank them direct.
13) Thank you to everyone who donates a copy of Severe M.E guide to living. I had 32 copies donated in the end and I know they will help all 32 people a HUGE amount and in turn help their family/carers.
14) I'm proud to know so many blood donors! I received a lovely email from someone who said she used to donate blood but just hasn't gotten around to doing it for a very long time and after reading my blog she went and booked herself in to donate.
15) I don't know the exact number but quite a few people have said they are working on making Twiddlemuffs and others have promised to make some I Spy Bags in the New Year.
16) I'm so close to reaching the goal of 1000 people reading the guide, I'm currently up to 896!
17) This might be one of my favourite wish outcomes, some readers have had to reach for the tissues. You can read about the wish
here
but here is a preview photograph
18) My wish was for people to help Dottie help more seriously ill Post Pals children next year by purchasing Christmas cards or a calendar. The wish grew bigger than I had hoped with someone sponsoring the Dottie project for 2 families for the whole of 2015, 2 more 'littermates' (the dogs the children are sent) were donated and Dottie is currently at the Cabinet Office having adventures to tell the children about next year. As well as this people ordered some cards and calendars. Thank you on behalf of all the Post Pals children
19) This one is the disappointing wish, I have a place in the marathon (and paid my entry fee) but they aren't letting someone be my legs! Someone asked if I could be pushed but I'm not well enough. I will keep trying to find someone at the marathon who could help. Huge thanks to those who have been helping try to change their mind!
20) I've had some kind offers from knitters to help and will be in touch over the next few weeks to match you with a bedbound person, sorry I've not been able to do this sooner.
21) 400 people read my blog post and I hope it comes back to them when they are next sending invitations to events. Even if just one special needs child is included then that's a great outcome for My 30 Wishes
22) thank you to everyone who has donated items to Burrswood, Alison the OT said it felt like Christmas came early! There's still some items on the list which haven't been ordered including a £7 magnifying glass, £2 ribbon for making special boxes, £29 mirror therapy box and mosaic coaster kits. You can see the wish list
here
. A big thank you to everyone who ordered something off the list.
23) unfortunately I missed listening to this one but again BBC Surrey granted my wish and took someone out who couldn't of gone out otherwise. Hopefully they had a lovely time. Although I didn't hear it, it's still one of my favourite wishes granted,
24) A few people got a carbon monoxide alarm after reading my wish and another couple checked the batteries in theirs. I only reached my 30th birthday because we had an alarm, if you don't have one and want to see another birthday then please get one! They are often only £10. I've seen recommendations to take them on holiday with you which is a good idea.
25) The wish list didn't trend on Twitter like I had hoped but it was the wish that was of least importance to me, it was just a way for people to see the other wishes.
26) I'm hoping at least one person has joined up to use their computer to help cure many serious conditions.
27) Medications were donated and awareness of schemes that recycle them raised so a big tick by this wish!
28) I set a target of 30 bubble wands and in the end 30 bubble wands were sent plus around another 20 gifts! That's 50 happy children who otherwise wouldn't of had a gift at Christmas. Thank you everyone.
29) Lots of people gave decorations in honour of this wish (and often handmade) which I was amazed about considering how late I added the wish to my blog.
30) I've really enjoyed reading about people grasping life and doing something they have always wanted to. In the words of
Alice Pyne
ONE LIFE, LIVE IT.